A new Queer YA Fantasy from the world of Shale...
Sohmeng Par is sick of being treated like a child.
Ever since a tragic accident brought her mountain community's coming-of-age ritual to a halt, she's caused nothing but trouble in her impatience to become an adult. But when she finally has the chance to prove herself, she's thrown from her life in the mountains and into the terror of the jungle below.
Cornered by a colony of reptilian predators known as the sãoni, Sohmeng is rescued by Hei, an eccentric exile with no shortage of secrets. As likely to bite Sohmeng as they are to cook her breakfast, this stranger and their family of lizards are like nothing she's ever seen before. If she wants to survive, she must find a way to adapt to the vibrant, deadly world of the rainforest and the creatures that inhabit it—including Hei themself. But Sohmeng has secrets of her own, and sharing them could mean losing everything a second time.
A remarkable coming-of-age tale with hints of How to Train Your Dragon and Princess Mononoke, Two Dark Moons is a story for anyone who has ever felt like they are "too much".
NOW AVAILABLE FOR PURCHASE ONLINE AND IN STORES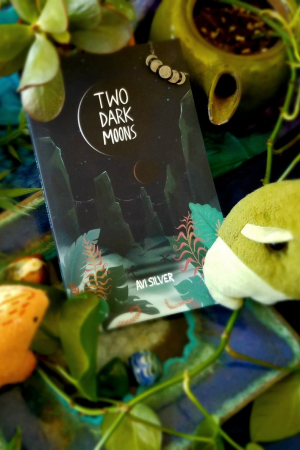 84 Harbord Street, Toronto
499 Church Street, Toronto
If you want to support indie bookstores in the US, check out INDIEBOUND!
Consult the moons...
In Sohmeng's village of Ateng, every element of one's life is governed by the lunar phase they were born under. From their name to their gender to their societal roles, the moons rule all. Curious about where you would fit in this system? Lucky for you, we have consulted the Grand Ones of Ateng to bring you this all-seeing personality quiz. Shout us out on social media with your moon phase @welcometoshale.
*Note: This quiz will let you know if you would be gendered feminine, masculine, or neutrally. While gender is conceptualized completely differently in Ateng, please be mindful to take care of yourself to avoid any dysphoria. We love you!